written by Anna Price Olson Updated Jan 31, 2020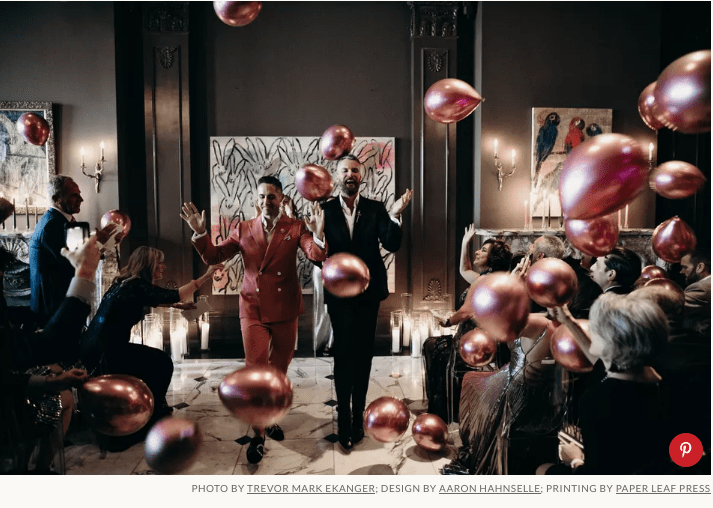 True: Weddings are timeless events. They are celebrations of love, and there's a reason we hold family heirlooms, traditions, and memories close to the heart.
That said, we can't help but acknowledge—and applaud!—how weddings have changed in the past decade. From the legalization of same-sex marriage to the invention of Pinterest and Instagram, it was a BIGdecade in the world of weddings. As a result, we have seen a shift in how couples are choosing to say "I do." Gone are the days of the expected, when a formal reception was a given and a white wedding dress was, well, expected. Instead, we now have the joy of witnessing couples have fun with the process, making the wedding more about the journey than the day itself. Couples are planning together, making their own decisions, and involving loved ones from the engagement through the after-after party (more on that later). They are customizing their celebrations, incorporating their personal styles, rethinking tradition, and—quite literally!—writing their own playbook. And we couldn't be more excited to be part of this exciting time.
So, in honor of 2020, we called on our editors, friends, and top wedding pros to reminisce on the past decade and celebrate just how far we've come. Whether you're an industry vet (like us!) happy to bid adieu to the decade of mason jars and burlap runners, or a bride who is ready to dive into wedding planning, we hope you'll find inspiration in the changes, inventions, and reimagined practices of the past decade. Enjoy!01of 20
Social Media Became a Major Player
It's no coincidence that both Pinterest and Instagram launched in 2010, forever changing the world of weddings. "In the past decade, we've been seen industry-revolutionizing platforms, Pinterest and Instagram, give couples the tools to find inspiration and express their ideas," says Jennifer Zabinski of JZ Events in New York City. "Social media has created a trickle-down effect and now inspires many weddings both from a visual and décor standpoint, as well as entertainment, catering, and even lighting respect. As a result, vendors and planners alike are challenged to create something new and different for each client, as to not just replicate a pre-existing concept."
02 of 20
Spending Habits Changed
While it's difficult to generalize financial situations across a large demographic of people, we know that couples are investing in their weddings. According to the 2018 Brides American Wedding Study, ninety-seven percent of engaged couples are planning the wedding together—thus, investing time and energy—and 58 percent are contributing cold hard cash. "Millennial and Gen Z couples have more disposable income than ever before, which means they may not be relying on their parents for an infusion of cash," add wedding planners Francie Dorman and Britt Cole of 42 North in Massachusetts. "Couples have more creative control over the process and what the wedding experience will feel like, which we are excited about."
03 of 20
"What's Expected" Became Less of an Expectation
"Couples are planning weddings that push the boundaries of tradition and of what's 'expected,' and we can't wait to see how their influence transforms this industry," Dorman and Cole continue. "They are abbreviating their engagements and making decisions quicker. That allows the wedding to feel much more 'in the moment' and 'of the moment' at the same time. Their weddings will feel fresh and inspired and are a reflection of their relationship in the present."
Jove Meyer of Jove Meyer Events in Brooklyn, New York, agrees. "In the last 10 years, weddings have evolved to be more personal to each couple, and less 'traditional' and or doing what is expected," he says. "Instead, couples are showcasing their style and love story in the details of their wedding, rather than picking from A or B, or what has been done before they are creating new custom details!"
As does Mindy Weiss of Los Angeles-based Mindy Weiss Party Consultants. "I love the independent thinking of couples today," she says. "The bold moves, the simplicity in design blended with the amazing, high-quality music or fine wine and spirits. Couples are really sharing an experience with their guests, making memories beyond just the 'I dos.'"
04 of 20
Personality Became a Priority
And, With That, "Customization" Took on New Meaning
"Customization: Wedding 'customization' used to mean monograms splashed everywhere from dance floor decals to cocktail napkins," Virginia Edelson of Bluebird Productions in Aspen, Colorado, says with a laugh. "Couples are now customizing every detail of their wedding to from their fully customized stationery to their location to how they approach entertainment. We are excited to see this trend with wedding continue in the next 10 years and become even more widespread."
Neillie Butler of Mariée Ami in Birmingham, Alabama, feels the same, saying, "Overall, I would say weddings have become more of an opportunity to express yourself and your style through customization."
06of 20
Destination Weddings Increased in Popularity
In addition to the look and feel of the wedding, couples are shaking up the "where" as well. "Destination weddings have grown in scope over the past decade with the rise of social media and the ease with which people share photos," explains Michelle Rago of Manhattan-based Michello Rago Destinations. Edelson also highlights this trend—and says it's not going anywhere soon. "We are so excited to see weddings in new locations that are outside of the standard hot spots," she says. "We are excited to help clients maximize the guest experience in the chosen location to really elevate their wedding."
That said, Rago—who has planned events from Istanbul to Ireland and Amsterdam to the Amalfi Coast—notes the difficulty in executing such an event. "It has been challenging for couples, and rightfully so, to make sense of what they see online and how much it costs in actuality," she explains. "Destination planning, in particular, is very challenging to untangle and requires a specific type of expertise. I am excited to see how the wedding platforms continue to expand and educate and elevate what I think is one of the most exciting industries out there."
07of 20
The Formality of the Wedding Was Called Into Question
"Weddings have shifted from hyper formal black-tie required events to more fun-focused events with a laid-back approach to celebrating," says Meyer, who planned this celebration at a rooftop garden in Brooklyn, New York.
08of 20
Couples Began to Embrace Nontraditional Venues
As the formality and vibe of weddings have evolved, so, too, have the venues where couples are choosing to marry. "While the high end, fancy hotel ballroom will never go away, couples are exploring alternate venues such as warehouses, rooftops, fields out in nature and anywhere that is different," he says. Another favorite? Places with sentimental value, such as summer camp! "We had a bride get married at a stunning girl's summer camp she attended for years growing up," adds Butler. "We were able to transform the property with the nation's best creatives, which may not have been logistically possible 10 years ago. Weddings used to be thought of in a prescriptive way, whereas today we are given a blank slate to really create a vision from our imagination, because of our industry resources and experiences."
09of 20
The Wedding Weekend Became Common Practice
"We are hearing and seeing lots of couples that want the entire weekend to be one larger cohesive event, and we are so on board for this," says Ashley Smith of Ashley Smith Events, who planned this multi-day wedding weekend at a summer camp (see a theme here!) in the California redwoods. "We love kicking off the weekend with activities and welcome parties that lead into the wedding day and all." San Diego-based Heather Balliet of Amorology Weddings also sees activities as a major addition to the standard wedding timeline. "Another change would be the idea of a wedding weekend experience as opposed to 'just attending,'" she says. "I think we will be seeing even more of this in the next 10 years, and we can't wait for all the fun travel adventures that will come with that!"10of 20
Guests Became a Priority
It takes time (hello, PTO!), commitment, and money to attend a wedding—even if it's not your own. Thankfully, couples are starting to recognize this investment and show their appreciation by prioritizing what we like to call "the guest experience." "The 2020 couple is looking for a wedding full of memorable moments that both surprise and touch their guests," says Easton. "Whether it's a 15 person gospel choir to start off the dance set or handwritten note within a cracker placed at every place setting—creating the 'wow' moment is important."
Smith believes this can also extend to the venue choice. "We are seeing more and more couples care about creating an experience for their guests, but elevating all of it," Smith says. "Think less cutesy and more edge, especially with the entire wedding weekend. Couples are steering in the direction of custom environments and experiences vs. traditional wedding tents or ballrooms."11of 20
The "Wow" Factor Became a Thing
"The 2020 bride is looking for a wedding full of memorable moments that surprise and touch their guests," says Lynn Easton of Easton Events. "Whether it's a 15 person gospel choir to start off the dance set or handwritten note within a cracker placed at every place setting—creating the 'wow' moment is important."12of 20
In Some Cases, Weddings Became More of a Production
"The most significant change is the investment people are prepared to make in their weddings, they have gone from being nicely designed and considered events to full-on productions, this has seriously changed the scope of our work as planners," says Rachel Birthistle of The Lake Como Wedding Planner. "Every single component—from printed goods to florals and décor to entertainment—has become a much bigger project and has, in turn, forced me to change the internal structure of my company. We are no longer event planners rather event managers and producers."13of 20
Trends Became Less Important
Jessica Sloane Event Styling & Design in Nashville. "Those things have had a long ride in the wedding industry over the last decade and, thankfully, we've all grown up a little with our taste. I think weddings are more elevated, in general, than they were 10 years ago. Regardless of budget, brides have embraced simplicity and more natural elements as the years have gone by."14of 20
Art Began to Influence Design
"Weddings really have changed over the past 10 years! They have gone from being very bridal (white) and rustic (mason jars for way too long…) to much more architectural, artistic, and overall design-focused," says Stefanie Cove of Stefanie Cove and Company. "We love the structures and spaces we get to build for our clients and finding the inspiration from actual art and architecture."15of 20
Color Palettes Evolved
"Color palettes used to be very specific and were limited to a two-tone combo," says Balliet, "Now, 10 years later, we are seeing a much broader scope of colors being used within a wedding and inclusion of spectrums of colors." Bye-bye, bridal blush!16of 20
The Rental Market Blew Up
When planners talk about creating new environments and playing with new palettes and décor details in the latter half of the 10s, it's because unique options (think chairs and mod lounge furniture!) are now available for rental. "Just think about the options in chairs now compared to what once was just Chiavari chairs," Cove says with a laugh. "I truly hope that this will just continue for the next 10 years, and we will be challenged to create atmospheres unimaginable for an event space."
Allison Hotkiss of Alison Events in San Francisco is equally as grateful—and optimistic! "Well, 10 years ago, we had very little rental options and now the sky is the limit (well almost!) so I can imagine we will only have more and more access to cool things you traditionally had to buy and now you can rent," she says. "We also used to have to make everything custom, which was not only expensive but very tricky when traveling with and through customs. I used to own so many flower vases back in the day as there were only clear glass options. Now, there are tons to choose from and florists are willing to share their inventory more."17of 20
The Timeline Was Reimagined
"Gone are the days of a standard timeline, and couples are really thinking outside of the box in terms of what their guests are doing and seeing, what happens when they first arrive, and what happens when they leave," say Nick and Aleah Valley of Valley & Company in Seattle. "Warm welcomes, greeters, and ample signage is all so important to the flow of a day, and can speak volumes for the overall takeaway." And, even more: "We are excited for the next 10 years of couples continuing to really personalize their day down to every finite detail and create their own timelines and layouts that work for their vision," they continue.18of 20
Good Food Became a Focus
"We are experiencing some incredible foodie scenes and this is making its way into weddings, which we love," says California-based Ashley Smith of Ashley Smith Events. Think Gwyneth Paltrow bringing in Francis Mallmann for her rehearsal dinner to start the weekend."19of 20
Dinner Service Changed
"A significant change over the last 10 years is the length of dinner," Easton says. No more four-course meals required. Our 2020 brides are celebrating the party! We start our dinner reception with a dance set to set the tone of a truly fun and joyful evening ahead!"
Meyer says the meal itself has also changed. "Wedding dinners have gone from very formal plated dinners to family-style and or cocktail style meals, more engaging and community-driven," he says. "Couples are also incorporating their personality in their foods, having fun with selecting cocktail hour bites they love!"20of 20
Sustainability Became a Focus
sustainable practices," says Easton. "Giving back and being green is going to be so important to our couples in the next 10 years."
So, what's next? We'll let Weiss have the final word. "The next 10 years…well, I just can't imagine weddings getting any better than what we are creating now," she says. "But, obviously, with the evolution of technology and creativity, I just anticipate the unknown." Cheers to that!The Wedding Trends to Keep and Ditch in 2020, According to 20 Top Planners
https://www.brides.com/how-weddings-have-changed-in-the-past-decade-4783322?utm_campaign=brides&utm_medium=email&utm_source=cn_nl&utm_content=19341645.11368&utm_term=list_gl_dt_brides-default