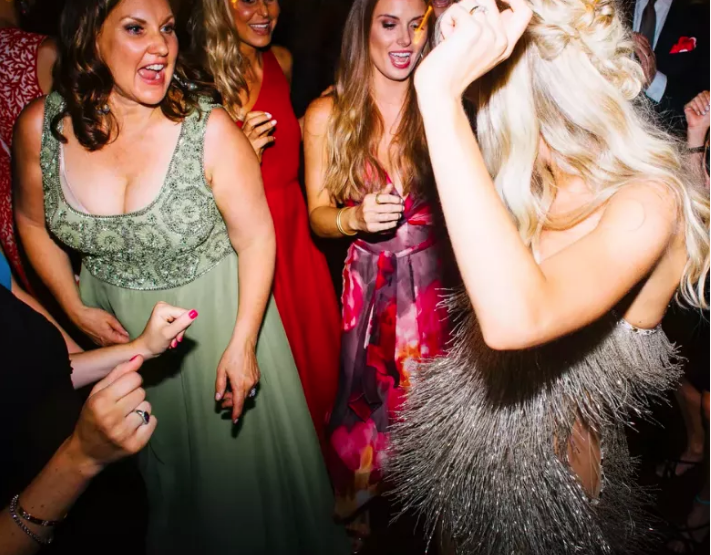 Did any of your favorites make the list?
written by Kristi Kellogg Updated Jan 16, 2020
Wedding after wedding, there are some tunes that always make the final cut. From party anthems to rock ballads, oldies to country classics, these perennial favorites are guaranteed to get people out on the dance floor. Whether you're making your own playlist or working with a DJ, there are certain songs that are essential for your reception.
Seattle-based wedding planner Julia Pavlovski suggests giving guests an option to jot down a song they'd like to hear when they RSVP. "That's really helpful for the DJ as he's structuring his song list because he already knows these are the songs that guests want to hear so he can work them into his playlist where they make sense," she says. Alternatively, you can set up a station with a sign that says "DJ Put Your Record On" with a bowl and slips of paper where guests can make requests. Again, this will allow the DJ to work the requests into his playlist in a way that feels natural.
These are our picks for the 100 most requested wedding reception songs of all time.
01of 100
"I Gotta Feeling," by The Black Eyed Peas
Lyrics of Love: "'Cause I got a feelin' (Wooh-ooh)/That tonight's gonna be a good night"
02of 100
"Uptown Funk," by Mark Ronson and Bruno Mars
Lyrics of Love: "Come on, dance/Jump on it/If you sexy then flaunt it"
03of 100
"Can't Stop the Feeling!" by Justin Timberlake
Lyrics of Love: "But you dance, dance, dance/And ain't nobody leavin' soon, so keep dancin'/I can't stop the feelin'"
04of 100
"Crazy in Love," by Beyoncé and Jay Z
Lyrics of Love: "I look and stare so deep in your eyes/I touch on you more and more every time"
05of 100
Lyrics of Love: "I'll be your cryin' shoulder/I'll be love suicide/I'll be better when I'm older/I'll be the greatest fan of your life"
06of 100
"Cha Cha Slide," by Mr. C The Slide Man
Lyrics of Love: "Right foot let's stomp/Left foot let's stomp/Cha cha now y'all/Now it's time to get funky"
07of 100
"I Wanna Dance with Somebody (Who Loves Me)," by Whitney Houston
Lyrics of Love: "Oh, I wanna dance with somebody/I wanna feel the heat with somebody"
08of 100
Lyrics of Love: "Because I'm happy/Clap along if you feel like happiness is the truth"
09of 100
"SexyBack," by Justin Timberlake
Lyrics of Love: "Dirty babe/You see these shackles, baby/I'm your slave/I'll let you whip me if I misbehave"
10of 100
"Party Rock Anthem," by LMFAO and Lauren Bennett
Lyrics of Love: "Party rock is in the house tonight/Everybody just have a good time/And we gon' make you lose your mind"
11of 100
"Shake It Off," by Taylor Swift
Lyrics of Love: "But I keep cruising, can't stop, won't stop moving/It's like I got this music in my mind, sayin' gonna be alright"
12of 100
"Moves Like Jagger," by Maroon 5 and Christina Aguilera
Lyrics of Love: "Take me by the tongue and I'll know you/Kiss me 'til you're drunk and I'll show you all the moves like Jagger"
13of 100
"Jump Around," by House of Pain
Lyrics of Love: "I came to get down, I came to get down/So get out your seat and jump around!"
14of 100
Lyrics of Love: "She's saying, come get me/So I got up and followed her to the floor/She said, baby let's go"
15of 100
Lyrics of Love: "I do all to fall in love with a girl like you/'Cause you can't run and you can't hide/You and me gonna touch the sky"
16of 100
Lyrics of Love: "It's a beautiful night, we're looking for something dumb to do/Hey baby, I think I wanna marry you"
17of 100
Lyrics of Love: "You make we wanna say/I do, I do, I do, do do do do do do doo"
18of 100
"This is What you Came For," by Calvin Harris featuring Rihanna
Lyrics of Love: "Baby, this is what you came for/Lightning strikes every time she moves"
19of 100
Lyrics of Love: "Tonight/I just want to take you higher/Throw your hands up in the sky/Let's set this party off right"
20of 100
"OMG," by Usher featuring will.i.am
Lyrics of Love: "Ooh (ooh) baby, you got it all/Sexy from her head to her toes/And I want it all, n' all, n' all"
21of 100
"This is How We Do It," by Montell Jordan
Lyrics of Love: "This is how we do it/It's Friday night and I feel alright"
22of 100
Lyrics of Love: "Party crasher/Panty snatcher/Call me up if you a gangsta/Don't be fancy, just get dancy/Why so serious?"
23of 100
"Because You Loved Me," by Celine Dion
Lyrics of Love: "You gave me faith 'cause you believed/I'm everything I am/Because you loved me"
24of 100
"I Will Always Love You," by Whitney Houston
Lyrics of Love: "And I wish to you joy and happiness/But above all this, I wish you love"
25of 100
"Genie in a Bottle," by Christina Aguilera
Lyrics of Love: "If you wanna be with me/Baby there's a price to pay/I'm a genie in a bottle/You gotta rub me the right way"
26of 100
"Hold My Hand," by Hootie and the Blowfish
Lyrics of Love: "With a little peace and some harmony/We'll take the world together/We'll take them by the hand"
27of 100
"Baby One More Time," by Britney Spears
Lyrics of Love: "When I'm not with you I lose my mind/Give me a sign/Hit me, baby, one more time"
28of 100
Lyrics of Love: "Move with me/Chant with me/And if you're good, I'll take you home with me"
29of 100
"I'll Make Love To You," Boyz II Men
Lyrics of Love: "I'll make love to you/Like you want me to/And I'll hold you tight/Baby all through the night"
30of 100
Lyrics of Love: "I swear by the moon and the stars in the sky/And I swear like the shadow that's by your side"
31of 100
"I Can Love You Like That by All-4-One
Lyrics of Love: "I can love you like that/I would make you my world/Move Heaven and Earth if you were my girl"
32of 100
Lyrics of Love: "Mmm, baby, I'm so into you/Darlin', if you only knew/All the things that flow through my mind"
33of 100
"I Knew I Loved You by Savage Garden
Lyrics of Love: "I knew I loved you before I met you/I think I dreamed you into life"
34of 100
"As Long as You Love Me by Backstreet Boys
Lyrics of Love: "Don't care what is written in your history/As long as you're here with me"
35of 100
"Gettin' Jiggy Wit It," by Will Smith
Lyrics of Love: "You trying to flex on me/Don't be silly/Gettin jiggy wit it/Na na na na na na na nana"
36of 100
"I Want It That Way," by Backstreet Boys
Lyrics of Love: "But we are two worlds apart/Can't reach to your heart/When you say/That I want it that way"
37of 100
"Always Be My Baby," by Mariah Carey
Lyrics of Love: "You'll always be a part of me/I'm part of you indefinitely/Boy don't you know you can't escape me?"
38of 100
"Baby Got Back," by Sir Mix-A-Lot
Lyrics of Love: "I like big butts and I can not lie/You other brothers can't deny"
39of 100
"What a Girl Wants," by Christina Aguilera
Lyrics of Love: "What a girl wants, what a girl needs/Whatever makes me happy and sets you free."
40of 100
"Shout," by Otis Day and the Knights
Lyrics of Love: "Shout/Let it all out/These are the things I can do without"
41of 100
Lyrics of Love: "You're playing so cool, obeying every rule/Deep way down in your heart"
42of 100
"You Really Got Me," by The Kinks
Lyrics of Love: "Girl, you really got me goin'/You got me so I don't know what I'm doin' now"
43of 100
"Isn't She Lovely," by Stevie Wonder
Lyrics of Love: "I never thought through love/We'd be making one as lovely as she"
44of 100
Lyrics of Love: "They have everything for you men to enjoy/You can hang out with all the boys"
45of 100
"Celebration," by Kool & The Gang
Lyrics of Love: "It's time to come together/It's up to you, what's your pleasure/Everyone around the world/Come on!"
46of 100
Lyrics of Love: "Ooh, see that girl/Watch that scene/Digging the dancing queen"
47of 100
Lyrics of Love: "Ow, she's a brick house/She's mighty-mighty, just lettin' it all hang out"
48of 100
"Don't Go Breaking My Heart," by Elton John and Kiki Dee
Lyrics of Love: "Don't go breaking my heart/I couldn't if I tried/Honey, if I get restless/Baby, you're not that kind"
49of 100
"September," by Earth, Wind & Fire
Lyrics of Love: "Remember how we knew love was here to stay/Now December found the love that we shared in September"
50of 100
Lyrics of Love: "Well, you can tell by the way I use my walk/I'm a woman's man, no time to talk"
51of 100
"Get Down Tonight," KC & The Sunshine Band
Lyrics of Love: "Oh, do a little dance, make a little love/Get down tonight, get down tonight"
52of 100
Lyrics of Love: "It's gonna take a lot to drag me away from you/There's nothing that a hundred men or more could ever do"
53of 100
"In Your Eyes," by Peter Gabriel
Lyrics of Love: "When I want to run away/I drive off in my car/But whichever way I go/I come back to the place you are"
54of 100
"Sugar, Sugar," by The Archies
Lyrics of Love: "Honey, ah sugar sugar/You are my candy girl/And you've got me wanting you"
55of 100
Lyrics of Love: "I won't cry, I won't cry, no I won't shed a tear/Just as long as you stand, stand by me"
56of 100
"Signed, Sealed, Delivered (I'm Yours)," Stevie Wonder
Lyrics of Love: "Like a fool I went and stayed too long/Now I'm wondering if your love's still strong"
57of 100
"Gimme Some Lovin'," The Spencer Davis Group
Lyrics of Love: "And I'm so glad we made it/So glad we made it/I want, gimme some-a lovin'"
58of 100
"Forever Young, by Rod Stewart
Lyrics of Love: "Be courageous and be brave./And in my heart you'll always stay"
59of 100
Lyrics of Love: "Uptown girl/She's been living in her uptown world/I bet she's never had a backstreet guy"
60of 100
Lyrics of Love: "Take my heart and please don't break it/Love was made for me and you"
61of 100
"Here Comes the Sun," by The Beatles
Lyrics of Love: "Here comes the sun/Here comes the sun, and I say/It's all right"
62of 100
"God Only Knows," by The Beach Boys
Lyrics of Love: "God only knows what I'd be without you/If you should ever leave me"
63of 100
"How Will I Know," by Whitney Houston
Lyrics of Love: "How will I know if he really loves me?/I say a prayer with every heartbeat/I fall in love whenever we meet"
64of 100
"My Prerogative," by Bobby Brown
Lyrics of Love: "They say I'm crazy/I really don't care/That's my prerogative"
65of 100
Lyrics of Love: "You are the dancing queen/Young and sweet/Only seventeen"
66of 100
"You Make Me Feel Like a Natural Woman," by Aretha Franklin
Lyrics of Love: "'Cause you make me feel/You make me feel/You make me feel like/A natural woman"
67of 100
"The Way You Look Tonight," by Frank Sinatra
Lyrics of Love: "There is nothing for me but to love you/And the way you look tonight"
68of 100
"Ain't That a Kick in the Head," by Dean Martin
Lyrics of Love: "How lucky can one guy be?/I kissed her and she kissed me/Like the fella once said/'Ain't that a kick in the head?'"
69of 100
"Come Fly with Me," by Frank Sinatra
Lyrics of Love: "It is perfect for a flying honeymoon, they say/Come on fly with me, we'll fly, we'll fly away, we'll fly"
70of 100
"The Way You Look Tonight," by Frank Sinatra
Lyrics of Love: "I will feel a glow just thinking of you/And the way you look tonight"
71of 100
"That's Amore," by Dean Martin
Lyrics of Love: "When the world seems to shine like you've had too much wine/That's amore"
72of 100
Lyrics of Love: "No wonder my happy heart sings/Your love has given me wings"
73of 100
"I've Got You Under My Skin," by Frank Sinatra
Lyrics of Love: "I've got you under my skin/I have got you, deep in the heart of me/So deep in my heart that you're really a part of me"
74of 100
"Pour Some Sugar On Me," by Def Leppard
Lyrics of Love: "Pour some sugar on me/Ooh, in the name of love"
75of 100
"Livin' On A Prayer," by Bon Jovi
Lyrics of Love: "Woah, we're half way there/Woah, livin' on a prayer/Take my hand, we'll make it I swear"
76of 100
"Sweet Home Alabama," by Lynyrd Skynyrd
Lyrics of Love: "Sweet home Alabama/Where the skies are so blue/Sweet home Alabama/Lord, I'm coming home to you"
77of 100
"Sweet Child O' Mine," by Guns N' Roses
Lyrics of Love: "She's got a smile it seems to me/Reminds me of childhood memories"
78of 100
"Don't Stop Believin'," by Journey
Lyrics of Love: "Just a small town girl/Living in a lonely world/She took the midnight train/Going anywhere"
79of 100
"Jessie's Girl," by Rick Springfield
Lyrics of Love: "Like Jessie's girl/I wish that I had Jessie's girl/Where can I find a woman/Where can I find a woman like that"
80of 100
"I Want to Know What Love Is," by Foreigner
Lyrics of Love: "I want to know what love is, I want you to show me/I want to feel what love is, I know you can show me"
81of 100
Lyrics of Love: "She's a good girl, crazy 'bout Elvis/Loves horses and her boyfriend too"
82of 100
"Friends in Low Places," by Garth Brooks
Lyrics of Love: "'Cause I got friends in low places/Where the whiskey drowns and the beer chases my blues away"
83of 100
"You're Still the One," by Shania Twain
Lyrics of Love: "When I first saw you, I saw love/And the first time you touched me, I felt love"
84of 100
"The Rest Of Our Life," by Tim McGraw & Faith Hill
Lyrics of Love: "So I take your hand and ask you/Have you made plans for the rest of your life?"
85of 100
"Country Girl (Shake It For Me)," by Luke Bryan
Lyrics of Love: "Shake it for the young bucks sittin' in the honky-tonks/For the rednecks rockin' 'til the break of dawn"
86of 100
"Wagon Wheel," by Darius Rucker
Lyrics of Love: "So rock me momma like a wagon wheel/Rock me momma any way you feel"
87of 100
"It's Your Love," by Tim McGraw with Faith Hill
Lyrics of Love: "It's your love/It just does something to me/It sends a shock right through me"
88of 100
"Boot Scootin' Boogie," by Brooks & Dunn
Lyrics of Love: "They got whiskey women music and smoke/It's where all the cowboy folk/Go to boot scootin' boogie"
89of 100
"When You Say Nothing At All," by Alison Krauss
Lyrics of Love: "A touch of your hand says you'll catch me if ever I fall/Now you say it best when you say nothing at all"
90of 100
"From this Moment On," by Shania Twain
Lyrics of Love: "From this moment as long as I live/I will love you, I promise you this"
91of 100
"Forever and Ever, Amen," by Randy Travis
Lyrics of Love: "Oh, baby, I'm gonna love you forever/Forever and ever, amen"
92of 100
"Chicken Fried," by the Zac Brown Band
Lyrics of Love: "See the love in my woman's eyes/Feel the touch of a precious child/And know a mother's love"
93of 100
Lyrics of Love: "But I've got all I want/When it comes to loving you/You're my only reason/You're my only truth"
94of 100
"Can You Feel the Love Tonight," by Elton John
Lyrics of Love: "And can you feel the love tonight?/It is where we are/It's enough for this wide-eyed wanderer/That we've got this far"
95of 100
Lyrics of Love: "On behalf of every man/Looking out for every girl/You are the God and weight of her world"
96of 100
"Truly Madly Deeply," by Savage Garden
Lyrics of Love: "I'll be your dream, I'll be your wish, I'll be your fantasy./I'll be your hope, I'll be your love, be everything that you need."
97of 100
Lyrics of Love: "'Cause all of me/Loves all of you/Love your curves and all your edges/All your perfect imperfections"
98of 100
Lyrics of Love: "At last my love has come along/My lonely days are over and life is like a song, oh yeah"
99of 100
"Unchained Melody," by The Righteous Brothers
Lyrics of Love: "Oh, my love, my darling/I've hungered, for your touch/A long, lonely time/Time goes by so slowly"
100of 100
Lyrics of Love: "Oh, won't you stay with me?/'Cause you're all I need/This ain't love, it's clear to see/But darling, stay with me"
https://www.brides.com/most-requested-wedding-songs-of-all-time-4774512?utm_campaign=brides&utm_medium=email&utm_source=cn_nl&utm_content=19214069.11355&utm_term=list_gl_dt_brides-default