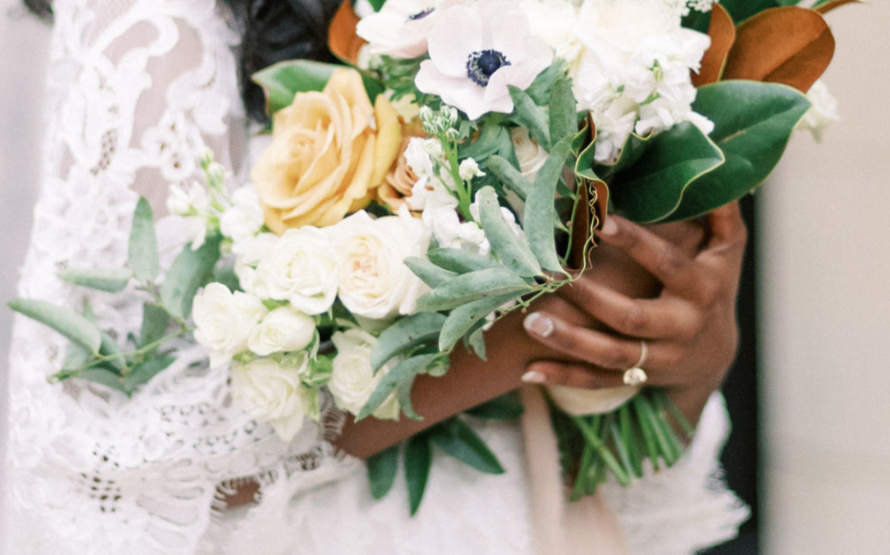 This handy guide will prepare you for any and all floral appointments. By Lauren Wellbank January 08, 2020 Pin FB
Even if you're absolutely crazy about flowers, you may not know all of the terminology around them. That's why we spoke with florists Ashley Greer, Oleta Collins, and Bron Hansboro to find out the common floral terms you need to know—and even some of the less common ones that may come up—so that you're ready for anything during any of your floral planning sessions. While this list isn't all inclusive, it does hit the majority of the terms and phrases that will come up as you choose and perfect the floral details of your big day.
If your florist mentions a term that you're not familiar with, or one that's not mentioned here, don't feel nervous about asking them what it means. While this is their wheelhouse, they understand that very few couples will have the same level of experience when it comes to talking about floral arrangements, and they'll be more than happy to walk you through the particulars.
Related: How to Hire Your Wedding Florist
Personal Flowers for Brides, Attendants, and Special Guests
Corsage: Personal flowers typically given to female attendants and the mothers of the bride and groom. These floral accents are generally made in both pin-on and wrist style
Floral Tattoo: Flowers that are worn on the bars shoulder or arm and are adhered using a breathable tape and skin safe adhesive
Nosegay: Bouquets that is very small in size, fitting easily in one hand
Posy: A smaller version of a nosegay bouquet
Organic Round Bouquet: This refers to the way in which the flowers are designed, not how their grown. They tend to have a more natural and free-flowing shape
Organic Horizontal Bouquet: This style's more-long-than-round look is currently trending on Pinterest and Instagram
Cascade Bouquet: Famously carried by Princess Diana, it has a rounded shape where it is held closest to the body and then "cascades" down usually to form a teardrop shape
Toss Bouquet: A separate bouquet to throw at the wedding reception
Pavé Style: Technically a jeweler's term, this refers to the positioning of flowers very close together with no space between them
Hoop Bouquet: These are actual hoops that have been decorated with flowers and ribbons
Pomander Ball: A round ball of flowers attached to a string that you will sometimes see a flower girl carrying instead of a basket with petals
Tussi Mussi: A small, tailored bouquet that is usually created for mothers, grandmothers, and or flower girls
Centerpiece and Reception Terms
Compote Arrangement: This is a low style of centerpiece that refers to the container, a footed bowl called a compote
Room Flip: This refers to the period—usually during cocktail hour—when the ceremony décor is moved to the sides or completely removed, all of the dinner tables are rolled in, and everything is set in place for the reception. There is very often an additional delivery fee that is charged because the full florist crew must stay through the ceremony and then work together to make sure everything is in place for you
Break Down or Strike: A time when everyone comes back at the end of the night—usually between 11 p.m. and 1 a.m.—to disassemble and remove the wedding décor
https://www.marthastewartweddings.com/2140787/wedding-florist-lingo-common-phrases-explained?did=487504-20200205&utm_campaign=martha-stewart-weddings_newsletter&utm_source=marthastewartweddings.com&utm_medium=email&utm_content=020520&cid=487504&mid=29399730424